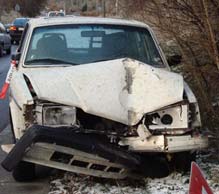 About three in every ten Americans will be involved in an alcohol-related crash at some time in their lives.
Every injury, accident, and death caused by drunk driving is completely preventable. Although the number of crashes that are alcohol related have decreased in the past decade, there are still far too many of these preventable accidents occurring. Alcohol-related motor vehicle crashes kill someone every 31 minutes and injure someone every two minutes (NHTSA 2006).
As a driver's blood alcohol concentration (BAC) rises, so does the risk of being involved in a crash.
0.05 = double the risk.
0.08 = 7 times the risk.
0.15 = 25 times the risk.
---
GETTING HOME SAFELY
If you are planning to drink, then plan NOT to drive. Plan ahead and arrange overnight accommodation or alternative transport:
Share a taxi with friends.
Catch public transport.
Ride with a driver who hasn't been drinking or taking drugs.
Arrange for a friend or relative to give you a lift.
Use a campus or community designated driver program.